AI Chat GPT4 powered answers and content
As an AI assistant, Wilfie can help you ask questions and create content. Wilfie can generate answers that are tailored to your needs. Whether it's for an article, blog post, or any other form of content, Wilfie can provide you with accurate and relevant information that will help you create high-quality content.
Try today for FREE!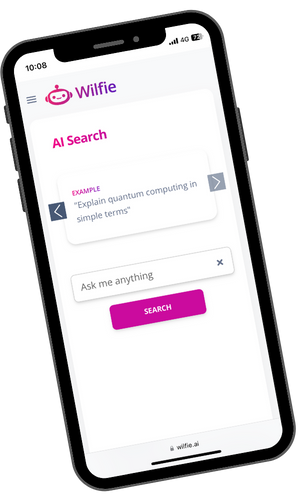 Introducing the revolutionary new technology that helps you find the answers you need, faster and easier than ever before. No more searching through endless sources of information – your questions can be answered in a single click.
---
Try for Free
What can AI Chat do for you?
Get the Answers You Need
AI Chat helps you quickly find the answers to your questions. Ask any question and AI Chat will search the web for you, finding the most relevant and accurate information. Get the answers you need in no time!
Put Complex Concepts into Plain Language
Struggling to understand complex concepts? AI Chat can help! It takes difficult concepts and puts them into plain language, making it easy for anyone to understand. No more getting stuck trying to learn something new!
Get Creative with AI Chat
AI Chat has a variety of features that help you to create content. Research topics, find new ideas, and create content more quickly and efficiently than ever before. With AI Chat, your content creation process will never be the same!
What People Think
What do you love about AI Chat?
""Wilfie AI Chat is so convenient! I can ask questions and get the answers I need in a matter of seconds. It's like having my own personal assistant helping me find information quickly." "
""I love how Wilfie AI Chat gives me direct answers to my questions. I no longer have to sift through webpages that may or may not contain the answer I'm looking for. Wilfie AI Chat is a great time saver and makes it easy to find what I need quickly."
"I'm a huge fan of Wilfie AI Chat. It helps me come up with ideas and write emails in no time. It's a great tool and I use it all the time!"
Unlock the Power of Artificial Intelligence with Wilfie AI Chat
Direct Answers
With Wilfie AI Chat, you can quickly get direct answers to your questions, without having to sift through a list of webpages for the information you need. Wilfie uses natural language processing and artificial intelligence to understand your query and provide the most relevant answer.
Time Savings
Wilfie AI Chat helps you save time by providing more accurate and faster results than traditional search engines. By understanding the intent behind your query, Wilfie can quickly provide the answers you need, so you don't have to spend time searching through webpages for the right information.
Easily Accessible
Wilfie AI Chat is available on any device, so you can access it quickly and easily from your home, office, or on the go. No need to search through multiple search engines to find the answer you need.
Natural Language Processing
Wilfie AI Chat is a revolutionary engine that uses natural language processing to understand the full context of your questions and provide direct answers. No more scrolling through multiple webpages to find the answer you are looking for – Wilfie AI Chat will give you an answer right away.
Intuitive AI Interface
Wilfie AI Chat features a user-friendly interface that allows you to quickly and easily search for answers to your questions. With Wilfie, you don't have to worry about sifting through pages of search results; Wilfie will quickly find the answer you need.
Instant Results
With Wilfie AI Chat, you don't have to wait around for your results. Wilfie AI Chat delivers instant results, so you can get the answers you need in no time.
Generate Written Content Easily with Wiflie AI Chat
Artificial intelligence is changing the way we write copy.
---
"Wiflie AI Chat provides a convenient platform to create written content such as blog posts, product descriptions, and emails in a fraction of the time."
"It utilizes artificial intelligence technology to help you craft engaging and informative pieces of content, while giving you the freedom to customize the results to your liking."
"With Wiflie AI Chat, you can maximize your creative potential and optimize your time by generating high-quality written content with ease."