AI:
Text to Image
Watch as Wilfie transforms your words and phrases into beautiful images. Create the perfect image for your project in seconds. Watch your productivity take off 🚀
Try today for FREE!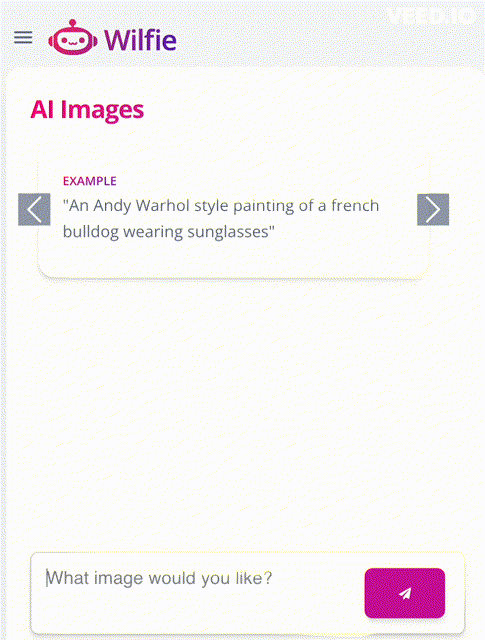 Unleash your creativity with AI: Text to Image, a cutting-edge platform that allows you to explore your concepts and thoughts in a unique way. Powered by unparalleled AI technology, Text to Image takes a novel approach and generates high-quality visuals that accurately capture your textual descriptions.
---
Try for Free
What can AI Text to Image do for you?
Get Creative with AI
Join the AI: Text to Image revolution today, and elevate your creative projects to new heights. Ignite your inspiration and transform written texts into stunning visuals - all at your fingertips!
Advanced GPT AI
Our AI is built on superior GPT models, similar to those utilized by world-renowned platforms like ChatGPT, which deliver incredible accuracy and efficiency. Unlock the endless potential of our AI-driven Text to Image converter and experience a visual realization of your ideas that is both imaginative and precise.
Get the Images You Need
Say goodbye to countless time-consuming searches for the perfect image to represent your ideas. With AI: Text to Image, you simply need to type in your thoughts, and let our advanced AI algorithms do the rest - crafting customized and genuinely captivating visuals in an instant.
What People Think
What do you love about AI Text to Image?
"Easy to use and delivers top-notch visuals in a snap. My creative process has never been simpler or more efficient! "
"Text to Image saves me time and effort by generating perfect images from simple text descriptions. It's a game-changer!"
"I'm blown away by the accuracy and speed of the generated images. While it may not always produce the perfect image on the first try, the AI is incredibly intuitive, and a few adjustments are all it takes. I'm a fan!"
Here are some ideas to help you get started
Social Media Posts
Capture attention and increase engagement on your social media platforms by using eye-catching images created with Text to Image. Convert your quotes, tips, or messages into visual masterpieces!
Email Marketing
Enhance your newsletters and email campaigns with unique, attention-grabbing visuals that convey your message more effectively. Use Text to Image for your headers, subheadings, or call-to-action buttons.
Blog Posts & Articles
Upgrade your blog posts and articles with dynamic illustrations generated with Text to Image. Turn your headlines, subheadings, and key points into custom images that enhance your content and engage your audience.
Presentations & Reports
Impress your clients, colleagues, or students with visually striking presentations and reports by incorporating Text to Image-generated visuals to explain complex concepts or emphasize crucial information.
Seasonal Greetings & Invitations
Use Text to Image to create personalized cards, greetings and invitations for any occasion with visually appealing and unique artwork that shares your message in style
Website Design & Branding
Reinvent your website and branding materials with one-of-a-kind visuals crafted by Text to Image. Elevate your brand's visual identity by transforming your mission statement, slogans, or product descriptions into attention-grabbing images that resonate with your target audience.
Effortlessly Create Visual Content with AI Text to Image
Artificial intelligence revolutionizes the way we design visual elements.
---
"AI Text to Image offers an innovative solution for generating striking images like illustrations, banners, and social media graphics, saving you both time and effort."